How Genetically Similar Are We To Other Life Forms?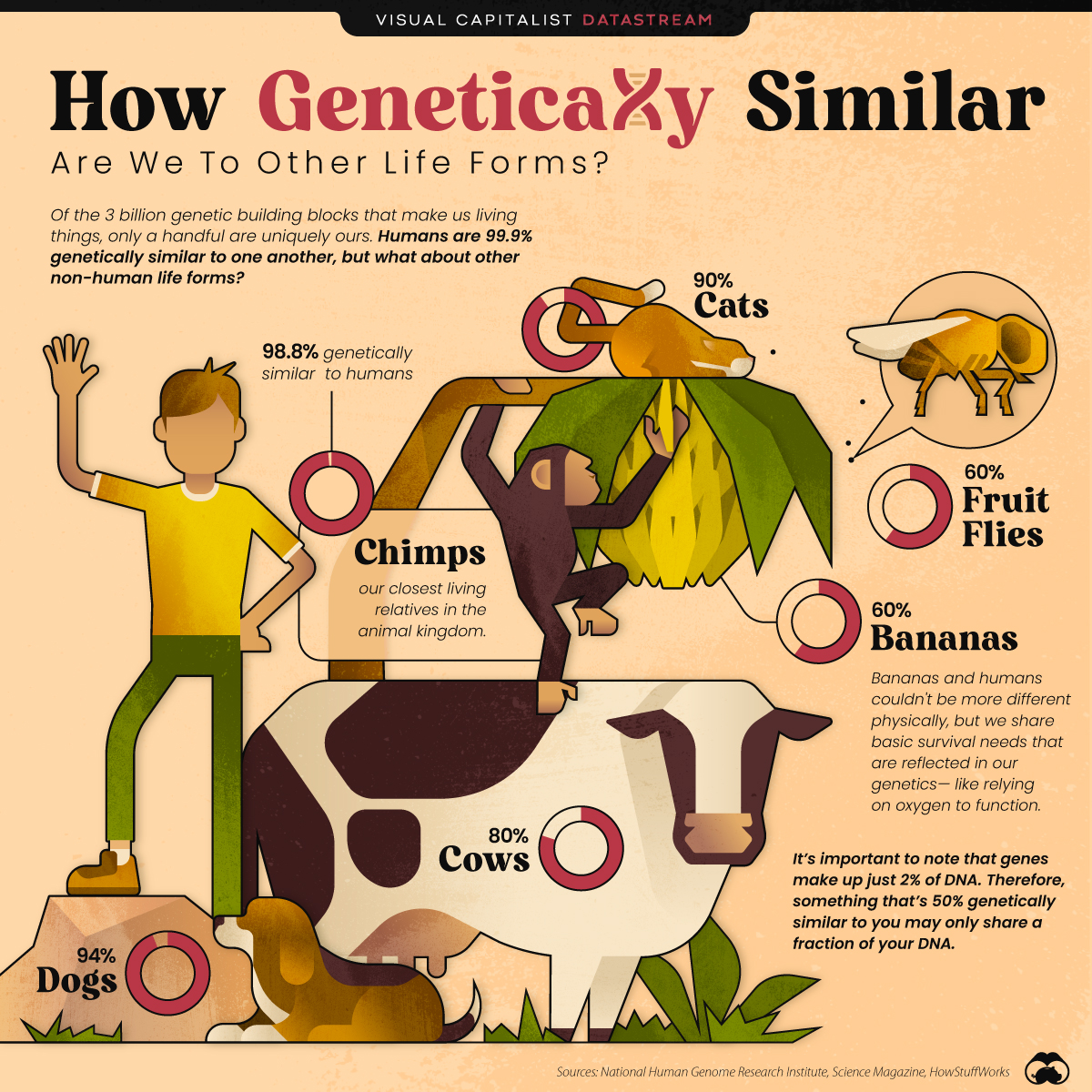 Can I share this graphic?
Yes. Visualizations are free to share and post in their original form across the web—even for publishers. Please link back to this page and attribute Visual Capitalist.

When do I need a license?
Licenses are required for some commercial uses, translations, or layout modifications. You can even whitelabel our visualizations. Explore your options .

Interested in this piece?
Click here to license this visualization.
The Briefing
Chimps are 98.8% genetically similar, making them one of our closest relatives in the animal kingdom
The genetic similarity between humans and fruit flies is 60%
Comparing Human Genetic Similarity to Other Life Forms
Of the three billion genetic building blocks that make us living things, only a handful are uniquely ours. In fact, despite our differences on the outside, humans are 99.9% genetically similar to one another.
But how alike are we to other, non-human life forms? Turns out, we're a lot more similar than you might think.
Comparative Genomics 101
First, how do scientists compare the genetic makeup of various life forms?
Comparative genomics is a branch of biology that compares genome sequences across different species to identify their similarities and differences.
This field of research is important because it:
Helps us better understand evolution, and how living things have adapted over time.
Builds knowledge around genes and how they influence various systems in our bodies.
Has wider applications in agriculture, especially in conservation efforts among endangered species.
According to the National Human Genome Research Institute (NHGRI), scientists have already sequenced the genomes of more than 250 animal species, as well as 50 bird species.
Human Genetic Makeup vs. Other Life Forms
Perhaps unsurprisingly, chimps are one of our closest genetic relatives in the animal kingdom.
Because of our similarities, chimpanzees have a similar immune system to humans, which means they're susceptible to viruses such as AIDS and hepatitis.
Though chimps are one of our closest relatives, other species are strongly linked to humans as well—and not necessarily the ones you'd think.
| Category | Genetic Similarity |
| --- | --- |
| Humans and Humans | 99.9% |
| Humans and Chimps | 98.8% |
| Humans and Dogs | 94% |
| Humans and Cats | 90% |
| Humans and Cows | 80% |
| Humans and Fruit Flies | 60% |
| Humans and Bananas | 60% |
For instance, according to NHGRI, fruit flies are 60% genetically similar to humans.
This may sound confusing at first, since humans and insects couldn't be more physically different. However, because we share many of the same essential needs to sustain life, such as the need for oxygen, these similarities are reflected in our genetics.
DNA vs Genes
It's important to note that being genetically similar to something is different than sharing the same DNA. That's because genes (the part of DNA responsible for making protein) only account for up to 2% of your DNA, while the rest of your genome is made up of what scientists call "non-coding DNA."
So while a banana is 60% genetically similar to humans, only 1.2% of our DNA is shared.
» Like this? Then check out this article on Earth's Biomass
Mapped: Legal Sports Betting Totals by State
In 2022, legal sports betting in the U.S. totaled over $93 billion. Which states saw the most and least wagers? (Sponsored post)
The Briefing
Legal sports betting reached over $93 billion in the U.S. in 2022.
New York State had the most wagers, with a total of $16.3 billion.
Legal Sports Betting Totals by State
Which states are driving the legal sports betting market, and which have not yet become major players? The answer is fueled by each state's legalization status, population, and other factors.
In this graphic from Roundhill Investments , we show a breakdown of legal sports betting by state.
A State View of Legal Sports Betting
In 2022, sports betting was live in 31 states plus Washington, D.C. Betting activity is highly concentrated, with the top five states accounting for 57% of the total reported legal wagers.
| State/District | Legal Sports Wagers in 2022 |
| --- | --- |
| New York | $16.3B |
| New Jersey | $10.9B |
| Illinois | $9.8B |
| Nevada | $8.7B |
| Pennsylvania | $7.3B |
| Arizona | $5.5B |
| Colorado | $5.2B |
| Virginia | $4.9B |
| Michigan | $4.8B |
| Indiana | $4.5B |
| Tennessee | $3.9B |
| Iowa | $2.3B |
| Louisiana | $2.3B |
| Connecticut | $1.5B |
| Maryland | $981M |
| New Hampshire | $892M |
| Kansas | $719M |
| West Virginia | $569M |
| Rhode Island | $533M |
| Mississippi | $532M |
| Oregon | $498M |
| Washington D.C. | $216M |
| Arkansas | $185M |
| Wyoming | $145M |
| Delaware | $82M |
| Montana | $51M |
| South Dakota | $7M |
| New Mexico | Legal, no data |
| North Carolina | Legal, no data |
| North Dakota | Legal, no data |
| Washington State | Legal, no data |
| Wisconsin | Legal, no data |
| Massachusetts | Legal, became operational in 2023 |
| Ohio | Legal, became operational in 2023 |
| Florida | Legal, not yet operational |
| Maine | Legal, not yet operational |
| Nebraska | Legal, not yet operational |
| Alabama | Not legal |
| Alaska | Not legal |
| California | Not legal |
| Georgia | Not legal |
| Hawaii | Not legal |
| Idaho | Not legal |
| Kentucky | Not legal |
| Minnesota | Not legal |
| Missouri | Not legal |
| Oklahoma | Not legal |
| South Carolina | Not legal |
| Texas | Not legal |
| Utah | Not legal |
| Vermont | Not legal |
New York State had the most legal sports betting, largely because it was the most populous state to allow online sports wagers so far. Notably, 1.2 million accounts were created in the first 10 days of legalization. New York also has multiple teams across all four major sports—football, basketball, baseball and hockey—which boosts local interest.
New Jersey took the second spot. The state challenged the federal ban against legal sports betting, winning their case in 2018. New Jersey has since rapidly established itself as a sports betting hub, thanks to its established gaming regulations, prime location near New York City and Philadelphia, and strong gaming and tech infrastructure.
Illinois had the third highest annual total, and beat its prior state record with $1 billion in wagers in October alone. One key factor was a change to the registration process in 2022, which allowed residents to sign up online rather than in-person at a casino. Not only that, the state is home to some popular teams including the Chicago Bulls, who have the third-largest social media following of any NBA team.
Smaller, and Not Yet Legal, Markets
South Dakota had the lowest legal sports betting of the states with reported totals. The state only allows in-person betting in the city of Deadwood and at tribal casinos, with the latter not reporting the total bets they receive. Online sports betting is not yet legal in the state unless the bettor is physically at a Deadwood casino.
Montana had the second smallest total bets. The state has a small population and no major league professional sports teams. Not only that, sports betting in the state is government-run rather than a competitive market. Like South Dakota, online bets can only be placed when the bettor is physically present at a retailer.
Notably, the most populous states of California, Texas, and Florida do not yet have legal and/or operational sports betting. Together, the three states represent 27% of the total U.S. population. Sports betting was initially legal in Florida but has been paused due to ongoing legal proceedings.
Expanding Geographic Reach
Legal sports betting has expanded significantly since the federal ban was lifted in 2018. However, 17 states have not yet legalized sports betting in any form, and some states could see growth from allowing online betting.
As more states proceed with legalization, the consumer base is likely to continue expanding. This creates a revenue opportunity for sportsbook operators. In fact, Goldman Sachs estimates that the total revenue opportunity could grow from $900 million in 2021 to $39 billion by 2033.
Looking for exposure to the growing sports betting industry? Explore Roundhill's sports betting ETF, $BETZ .